See Y'all in Pikeville!
April 18-20, 2024
See pricing and info below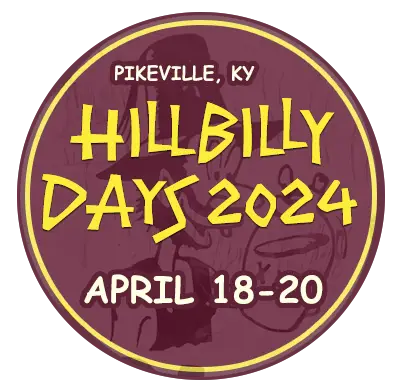 April 24-26, 2025 | April 16-18, 2026
Future dates subject to change.
The Annual Hillbilly Days Festival was founded in 1977 by a group of Shriners as a means to raise money for the Shriners Hospital for Children in Lexington, Ky. Two Shriners from Hillbilly Clan 1, Outhouse 2, "Shady" Grady Kinney and Howard "Dirty Ears" Stratton, decided to host a hillbilly parade in Pikeville in 1976 after visiting a parade in Portsmouth, Oh. earlier that year. Over the years, the parade grew into a full three-day festival. It has continued ever since. Now, more than 150,000 people from around the country come once a year to experience the festival and the cultural heritage of Appalachia. Many participants still wear overalls and other rural attire, during the festival, while roaming the streets of Pikeville to help raise money for a cause. | Learn more at hillbillydays.com.