Excellence in Education Grants
The Southeast Kentucky Chamber of Commerce's Foundation for Education was formed in April of 2008 to enhance educational opportunities for the students of the Chamber's eight-county region. Teachers, students, or school administrators are eligible to submit grants for funding.
The Chamber has provided nearly $75,000 in funding through the Excellence in Education Grant Program.
Funding Priorities
The Foundation for Education provides funding assistance to supplement areas within the school systems where there are insufficient funds to meet student needs and where the purpose enlightens students academically, e.g. additional equipment for science, art, music, and drama departments. Sporting activities and booster clubs are not eligible for funding through the Excellence in Education Grant Program.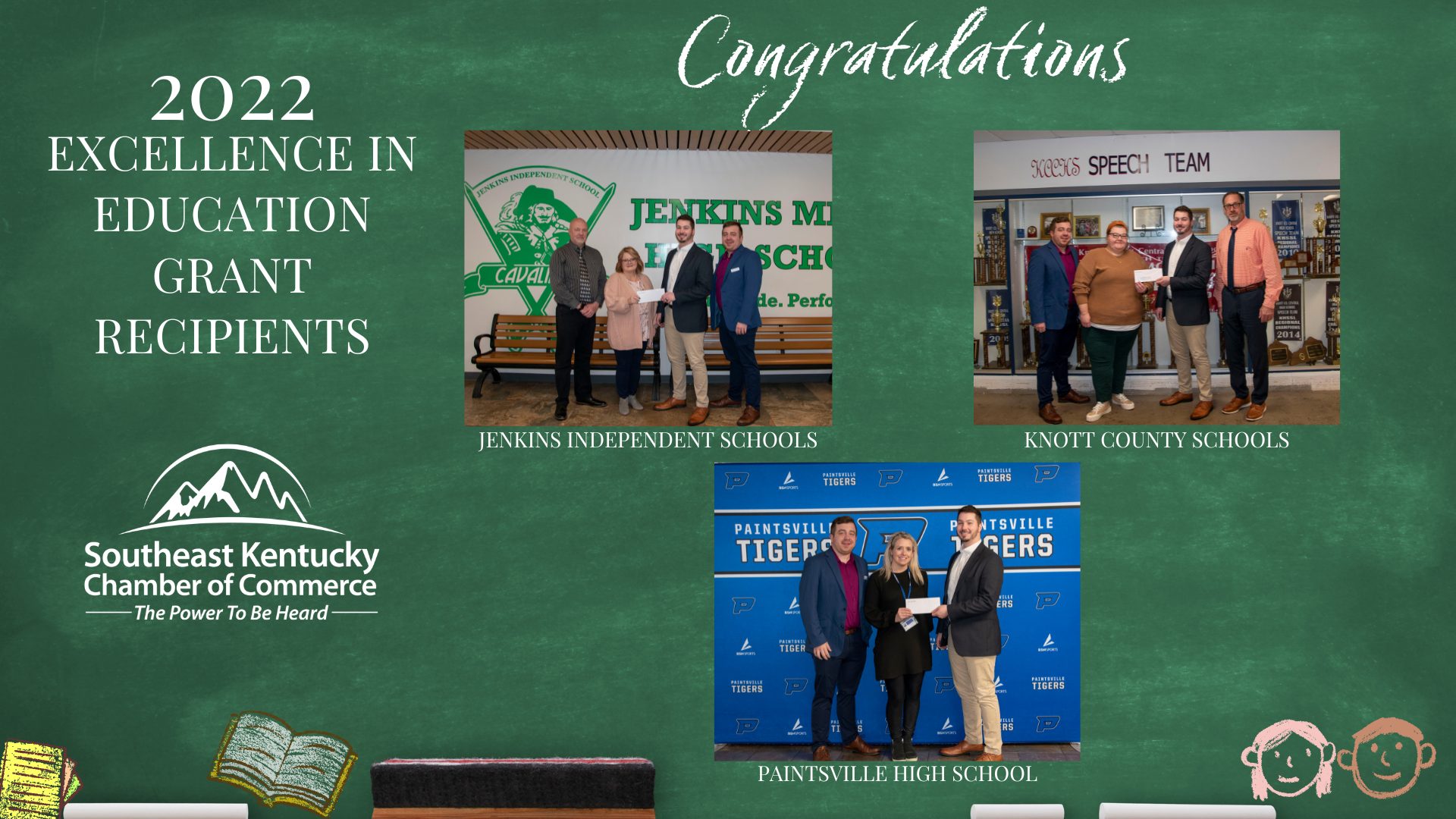 2022-2023 Grant Recipients
Burdine Elementary School (Letcher County), Jenkins Middle-High School (Letcher County), Knott County Schools (Knott County), and Paintsville High School (Johnson County) all received funding through this year's education grants from the Chamber.
Burdine Elementary School Administrator Amanda Anderson received a grant for $2,500, which will be used to rebuild the school's science, technology, engineering, and math (STEM) resources using Project Lead the Way curriculum. Burdine Elementary was flooded during the July 2022 flooding.
Jenkins Middle-High School Administrator Wendy Rutherford also received a $2,500 grant to rebuild her school's STEM resources that were lost due to flooding.
Knott County Schools Educator Dustin Combs received a $1,750 grant, which will be used to support students in grades 4-12 in adjudicated competitions and exhibition performance opportunities in the areas of speech and dramatic performance.
Paintsville High School Educator Karla McCarty received a $1,250 grant, which will be used to expand the school's instruction in computer science. The school seeks to purchase GoPiGo Raspberry Pi robots that will allow students to explore robotics, coding, and the frontiers of computer science.
"Each year, the Chamber looks forward to presenting these education grants to the dedicated educators and administrators of this region," said Gibson. "With the widespread flooding the region recently received we are honored to be able to support the rebuilding of our educational programs, and to give back to the students who are the future of this region."
Read the full release here.